Halfway into a busy year, ISC has received accolades from both the Arizona MBDA Business Center and Solar Power Magazine for our solar renewable energy projects. These awards are the result of our sincere dedication to providing equitable access to clean energy, especially in rural areas. Our commitment to outstanding service and renewable energy pushes us to continually seek out projects that expand access to communication, telehealth and basic needs like lighting, refrigeration and internet access.
As an 8(a) certified Minority Business Enterprise (DBE/MBE), we have been involved with the MBDA and other minority business development organizations for years. In 2016, the US Department of Commerce, MBDA awarded us the Minority Energy Firm of the Year. Recently, founder Fernando Vigil attained a certificate from the Stanford University School of Business via the Stanford Latino Entrepreneur Initiative in conjunction with the Latino Business Action Network (SLEI+LBAN). This selective initiative involves Latino business leaders from across the US to support the next steps in growing their business. It has also been influential in learning how they can function as role models for younger generations.
Arizona Recognition for ISC's Renewable Energy Projects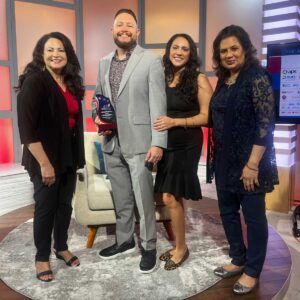 The Arizona MBDA Business Center recently named ISC the "Minority Emerging Technology and Industries Firm of the Year" for 2023. This exciting accolade recognizes our outstanding delivery of cutting-edge technology in sustainable energy.
"Your unwavering commitment to sustainability and the passion to reduce our carbon footprint as you increase communication and connectivity with clean electricity and innovation has propelled your firm to the forefront of the industry. The impactful work you have done on tribal reservations and across the state, and even beyond, has demonstrated the transformative power of new solar technologies in advancing environmental conservation and renewable energy adoption."

Alika Kumar, MBA, MIM, Executive Director, Arizona MBDA Business Center
ISC has been working to reduce our carbon footprint and increasing off-grid telecommunications and first responder networks with solar energy.
Recognition for Working with Local Communities
The Minority Emerging Technology and Industries Firm of the Year award recognizes how ISC has also contributed to local economies on tribal reservations through workforce development. Specifically, our work on the Navajo Nation almost entirely involved local skilled tradesmen. We also provided additional workforce development so those not familiar with solar and energy storage became fully capable of maintaining their systems.
We've learned that by utilizing relationships and partnerships that are specifically local to that community, we significantly reduce costs and minimize environmental impact. We also make our approach replicable within the community. This localized approach fosters a sense of ownership, empowerment and a sense of trust. Working at training the local workers develops a local workforce that ensures the local economy benefits from their own projects.
"We are impressed by the significant contribution your firm has made to local economies, particularly on reservations, by creating jobs and increasing revenues. Your efforts have not only fostered economic growth but have also empowered communities and individuals with opportunities for a brighter future."

Alika Kumar, MBA, MIM, Executive Director, Arizona MBDA Business Center
ISC now looks forward to the results of being nominated by Arizona MBDA as a candidate for national consideration in this prestigious award. Listen to founder Fernando Vigil talk about ISC's goals to bring solar renewable energy projects to those who need it.
ISC Named Top Solar Contractor for Our Renewable Energy Projects
Additionally, Solar Power World has recognized ISC as a Top Solar Contractor by Solar Power World. Many of our projects involve work from start to finish, also known as EPC. They ranked us as a Top Solar EPC (Engineering Procurement and Construction). EPC includes site assessment, engineering schematics, acquiring materials and contractors and finally, the actual construction of the site.
Solar Power World also ranked ISC as a Top Solar & Storage Installer. Since many of our renewable energy projects are off-grid, they typically include battery backup or a connection to a generator. Hybrid installations like these assure the customer won't experience a lack of power when the sun goes down. By including state-of-the-art remote monitoring on most of our sites, we are also able to address potential failures in the system before they create an outage.
Additionally, while we primarily serve industrial, utility and commercial clients, ISC ranked as a Top Residential Solar Contractor. This recognition is entirely for our 150 off-grid residential solar installations on the Navajo Nation performed in 2022-2023. Working with the Navajo Tribal Utility Authority (NTUA), our 2022 installations were in addition to the 150 renewable energy projects previously completed in 2020. Altogether, our work on the Navajo Nation has totaled 1.1 MW of solar and 11.52 MWh of battery storage. The future holds potential for even more installations in the future. We continue to work with tribal authorities to expand rural electrification in remote tribal lands.
As of mid-2023, ISC has offset 2,436 tons of carbon per year through 500+ solar and hybrid installations across 8 states and 4 countries. This includes 24.3 Megawatts of solar with approximately 23 Megawatt hours of clean energy storage.